Sharon Hicks Fine Art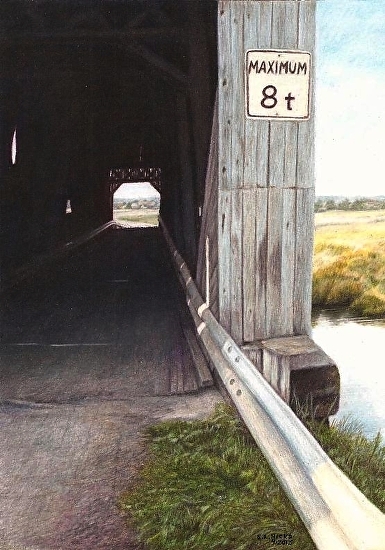 MAXIMUM 8 TONS
© Sharon L Hicks, 2013
Coloured Pencil, 11.25" x 8.25"
...
This may well be my favourite of all the paintings I've done of the Wheaton Covered Bridge on the Tantramar Marsh ... so far. It's also the most recent, and perhaps that has some bearing on this feeling as well.
The main challenge I set for myself with this piece was to capture those little slivers of light which sneak through the cracks between the side boards and reflect on the guard rail and roadway inside the bridge itself. I have to say I'm quite pleased with the results.
I'm also really happy with the way the grassy patch in the foreground transitions into the fine gravel at the side of the road. Another challenge met. Lots of pencil squiggles and overlapping circles and loops help build up the illusion of a patch of green growing things. It's always amazing to me when I see what emerges after a session of seemingly random squiggles, and it's part of the pleasure of doing what I do.
I often just let the painting 'paint itself'. I can put myself mentally back into that spot, and being able to 'see' it in my mind almost automatically guides my hand to capture the varying textures. It's like discovering something new every time I sit down to work on a new piece. It's exhilarating, and I'll never get enough of it.
Leonard Cohen (whom I recently saw at a live performance) says "There ain't no cure for Love" ... well, not to diminish Leonard's words, I say - "There ain't no cure for Art."
-------------------------------------------
I am primarily a Coloured Pencil artist. After having used many different mediums over the years, I've been working almost exclusively with these pencils for over two decades now, and I'm definitely hooked! I still dabble a bit in the more traditional mediums - oil, watercolour, acrylic, but my first love continues to be pencil work.
I hope you enjoy viewing my collections, and I welcome any feedback or inquiries. Also, many of the images you see here on my pages are available as prints and note-cards. Please feel free to contact me for further information ...
NOTE - LIGHTFASTNESS - Some art collectors have voiced concerns in the past about some Coloured Pencil works fading after extended exposure to light. Over the past couple years I've conducted lightfastness tests on the pencils which I use, and I can now verify that the colours in my paintings will remain true for many decades of exposure to normal room light.